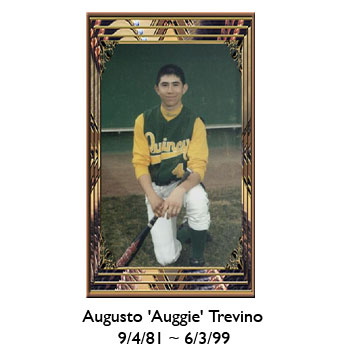 Hello,
"A promise made, a never ending mission; inspiring hearts & minds to Stop The Violence. I made this promise on my sons death bed June 3rd 1999, minutes before taking him off life support.
At 17 years old my son Auggie was taken in murder; by a young gang member with a stolen gun; forever changing many lives. The murderer of my son was brought to justice, and served his short sentence. I was able to address him (and he I) at his deportation hearing. I.C.E. then deported him.
Along my journey many years ago, I met Christina Pelayo. Her daughter Anna was murdered in 1997 at 13 yrs. old with a firearm. Her homicide is now a cold case. She joins me in my mission.
Traveling throughout the Northwest and as far as New York we take an influential, heartfelt message to law enforcement, schools, agencies and the public. We provide resources and updates on important issues concerning safe communities and schools. As well, we take matters and concerns to government leaders and legislators.
Our commitment is to empower and motivate communities towards unity, strength, healing and peace. It is our belief that all entities must work together, sharing knowledge, ideas and efforts.
Presentation Information is here. Dora's Bio here. Please fell free to call on us for further assistance.

Peace to All,
Dora Sanchez Trevino, Founder
Stop The Violence, In Our Communities
Dora speaks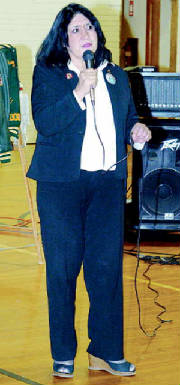 Victims, co-victims, family, friends, advocates and the general community are invited to attend the Franklin Benton Candlelight Vigil in honor of victims and the advocates that serve them. This is to recognize 30 years of the enactment of VOCA The Victims of Crime Act established in 1984. Franklin and Benton Counties Crime Victim/Witness Office is hosting this event.

Jim Huffman, (Wenatchee) Family and Friends of Violent Crime Victims, and state advocate will be our main speaker. His daughter and wife were taken in murder.speakers will include 8th Leg. District Representative Brad Klippert, David Reeploeg Assistant to Sen. Cantwell, Benton County Prosecutor Andy Miller, Franklin County Prosecutor Shawn Sant, Kim Keltch Crime Prevention Specialist for Pasco, a local victim and a domestic violence advocate. Service providers will be present with information. Our nations beautiful flags will be presented by the National Guard, a silent candle walk around the park will take place.


If you are a provider and we somehow missed contacting you please feel free to attend and set up a table with your information, there is no fee, no registration. This is a community event.

Thank you Tri-City Herald for your report of the upcoming vigil.
All contents copyright © 2007-2008, Stop The Violence, In Our Communitie; All rights reserved
Disclaimer
All trademarks mentioned herein belong to their respective owners.