Tri-Cities Crime Victim Event 2014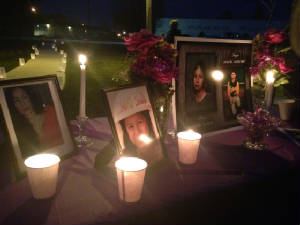 Candle light vigil

.
"WE ARE OUR CHILDREN"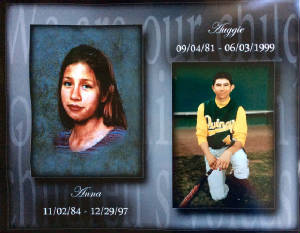 Hello,

"A promise made, a never ending mission; inspiring hearts & minds to Stop The Violence. I made this promise on my sons death bed June 3rd 1999, minutes before taking him off life support.

At 17 years old my son Auggie was taken in murder; by a young gang member with a stolen gun; forever changing many lives. The murderer of my son was brought to justice, and served his short sentence. The judge said if I did not like his sentence of five years to change the laws. That is exactly what we did through legislation. I was able to address my sons murderer and he I at his deportation hearing (which took a trip to D.C. for permission). This was unheard of. I.C.E. then deported him.

Along my journey over a decade ago I met Criccy Pelayo. In 1997 her 13 yr old daughter Anna was murdered. Her case is an ongoing working cold case out of Franklin County Washington. Criccy joined me as co-founder of Stop The Violence In Our Communities.

Sonia Pardon, long time family friend was with me from the beginning. Bringing support and hard work to the cause for non violent communities and families.

Traveling throughout the Northwest and as far as Vegas and New York we take an influential, heartfelt message to law enforcement, schools, agencies, prisons and the public. We provide resources and updates on important issues concerning safe communities, schools and prisons. And take matters and concerns to government leaders and legislators.

It has been a great experience presenting for Gang Prevention Services, Gabe Morales, New York Gang Investigators Assoc., various law enforcement agencies and Washington State Prisons. We thank the many schools and communities we have had the pleasure to speak to over the last 15 years.

Our commitment is to empower and motivate families and communities towards unity, strength, healing and peace. It is our belief that all entities must work together, sharing knowledge, ideas and efforts.

Please fell free to call on us for further assistance, presentations or homicide advocacy. We do not charge for speaking engagements, crime advocacy or event planning. This is a gift given from our hearts as Mothers.

Peace to All,

Dora Sanchez Trevino, Founder

.



About S.H.I.N.E. Life Lessons Revealed. Dora has a chapter written on her Lessons Revealed in this book
Oral History of Dora in the Book Pacific Northwest History
Our gang prevention work in "Gangster's Paradise: Gangs in the Pacific Northwest"